Natural Stone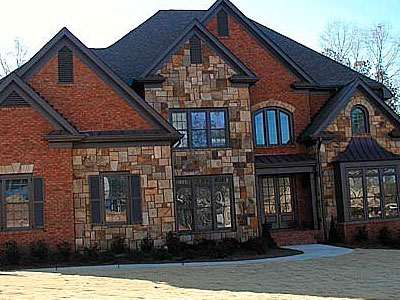 Natural stone is synonymous to natural beauty and adds a unique element of elegance to any property where it is used for landscaping. This landscaping material is known not only for the timeless beauty but its sturdiness and durability too. Natural stone with its numerous varieties gives infinite possibilities of using it to enhance the aesthetic appeal of any space. It adds texture, contrast and color and can be used for both decorative and functional purposes. If you wish to use natural stones in your landscape and are looking for a reliable source for the same, Mountain Stone will be your one-stop-shop.

We have a team of experienced professionals who can help you use natural stone in your property to create various landscape designs. We are committed towards continuously delivering beyond our customers' expectations. We work with the focus on building a foundation of trust and a long-term relationship with our clients.


Natural Stone Landscapes We Can Create for You
As natural stones are available in various shapes, colors and designs they can be used to create multiple landscape elements and can be used to suit personal preferences of every homeowner. Our team can work with you to understand your needs and choices and create the below landscape elements to enhance the curb appeal of your home:


Pathway: Some of the most common natural stone that we use and supply for pathways are limestone, sandstone, granite, and slate.
Outdoor furniture: Furniture like benches, tables and chairs made with natural stones can be used in and around the garden. With these you can create a great outdoor spot to relax with a cup of coffee or a glass of wine in your hand.
Patio: A patio made with natural stones can become a focal point of your outdoor space.
Outdoor fireplace: Marble, granite and limestone are the most suitable stones to be used for building an outdoor fireplace and it can add an element of timeless beauty and comfort to your yard.
Outdoor kitchen: If you are ready to undertake a big landscaping project and completely remodel your backyard then adding an outdoor kitchen with natural stones is a perfect option.

With our finest products, there is no limit to the designs that can be created. You can set your imagination free, and our team will work with you to bring your dream landscape to life.


Best Quality Natural Stone for Your Landscaping Needs
As our mission is to deliver superior quality service, productivity, and operational efficiency, we carry nothing but the finest quality products. Being in the business for many years, we could create a name for ourselves by dealing in only the best quality product, materials, and tools. Our team works with our clients to assist them in making a choice of the most suitable product and with end-to-end execution of the construction project.

If you are an architect, homeowner or a contractor who wants to use natural stone in a landscaping project, reach out to our experts at Mountain Stone today. You can call us on 678-947-4226 or fill up our online form for any questions on natural stone or other landscaping material and services.

Click on the images below to view a larger display.


Photo 13

Photo 14

Photo 15

Photo 16

Photo 17

Photo 18

Photo 19

Photo 20

Photo 21

Photo 22

Photo 23

Photo 24